Coastally Crafted, Artistically Inspired
Set your intentions with highly inspired treasures for introspection, growth, and creative inspiration.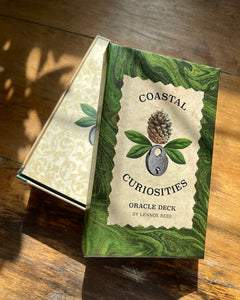 Stockists
Sold out!


Wholesale is available when inventory allows. Contact helloivyly @ gmail . com for more information.
ivyly by Lennox Rees
Creative director, graphic designer, and collage artist creating tarot & oracle decks and artful goods.
Meet Lennox
The person behind the decks! Hi, thank you for stopping by and checking out my art. Everything I create is rooted from a personal need and use, which makes me feel drawn to share the power of it with you.
I've been intentionally aware of how my creativity is connected with my mental, physical, and spiritual health. After experiencing a deep loss, I began to weave more self-care practices into my day, to invest in myself, which is how my products are born.
Find my graphic design + creative direction client work at lennoxrees.com.
Live Creatively
When I create, it helps me heal. Working as a professional creative, not enough focus is placed upon personal development, boundaries, and energy even though that is exactly what it takes to be super creative.
I focus on creating functional art that is used in your daily life to maintain balance, encourage growth, and bring pleasure.
Reach out at helloivyly @ gmail . com